Fleisher 2023 Foudner's Award Celebration
October 21 @ 6:00 pm

-

9:00 pm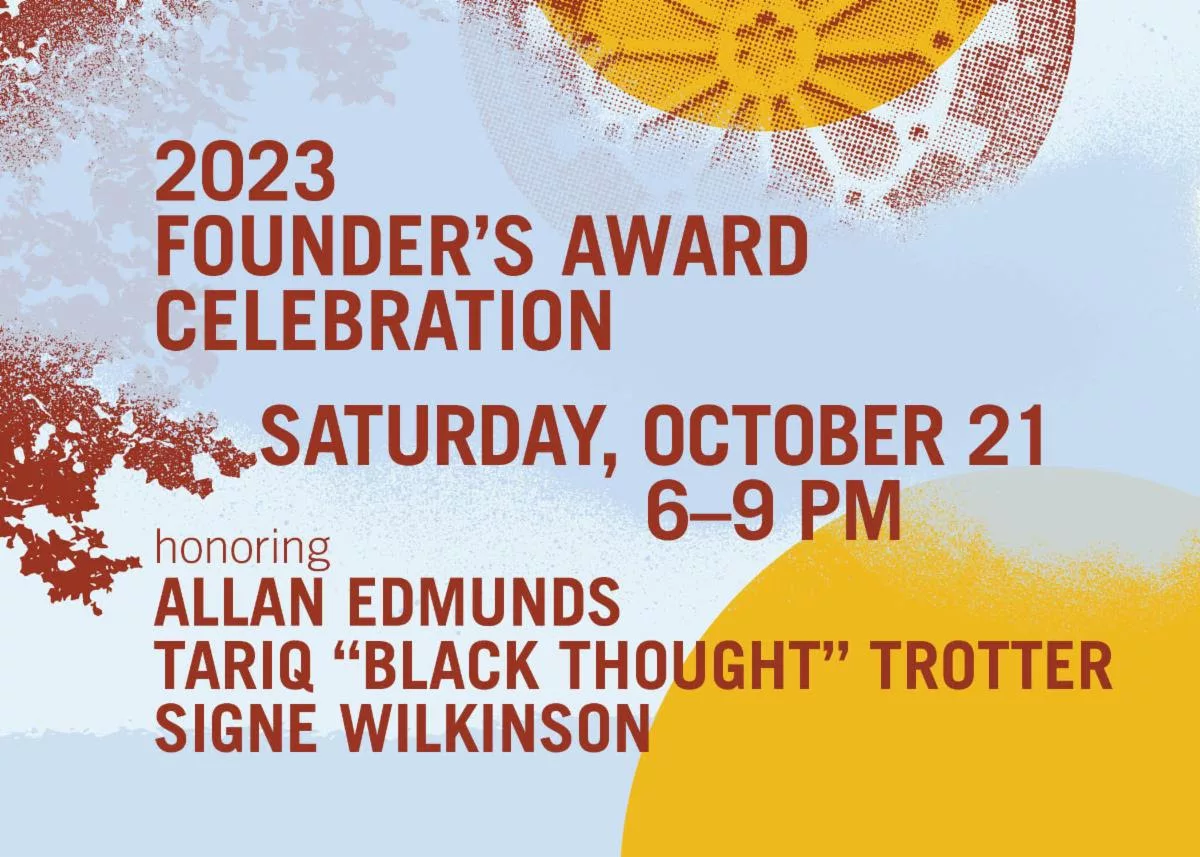 PHILADELPHIA, October 2023 — Fleisher Art Memorial will honor Brandywine Workshop and Archives founder Allan Edmunds, hip-hop artist and The Roots co-founder Tariq "Black Thought" Trotter, and Pulitzer-prize winning editorial cartoonist Signe Wilkinson with their 33rd annual Founder's Award this year, recognizing each individual's commitment to providing access to the arts, promoting excellence in creative expression, and enriching Philadelphia's cultural resources. The ceremony is part of a yearlong celebration of Fleisher's 125th anniversary; October programming will also feature the opening of an exhibition featuring the work of groundbreaking printmaker Dox Thrash, and the 11th annual Día de los Muertos Celebration organized by La Calaca Flaca.
As Founder-President Emeritus of Brandywine Workshop and Archives from 1972 to 2022, Allan Edmunds built an internationally respected art institution focused on the art of printmaking. An artist, educator, and arts administrator with over fifty years of experience, past honors include the National Endowment for the Arts and Pennsylvania Council on the Arts Artist Fellowship Awards, as well as the New York City Print Center Award for Arts Administration. Honored by the International Review of African American Art as one of 25 Who Made a Difference in American Art in 2001, he is also the recipient of Temple University's Distinguished Alumni Award.
Co-Founder of The Roots, a critically acclaimed solo artist, actor, writer, and producer, Tariq "Black Thought" Trotter has become one of the most prolific and prescient voices in hip-hop. He has released eleven applauded albums with The Roots, won four Grammy Awards and three NAACP Image Awards, and has been a beloved mainstay of late-night television since The Roots became the house band for The Tonight Show Starring Jimmy Fallon over a decade ago. Launching the production company Two One Five Entertainment with The Roots co-founder Questlove, Black Thought also served as executive producer for the AMC documentary series, Hip-Hop: The Songs That Shook America.
The first woman to win a Pulitzer Prize for editorial cartoons, Signe Wilkinson joined the Philadelphia Daily News in 1993 and The Philadelphia Inquirer in 2013. Retiring from both in 2020, Wilkinson is now an occasional contributor to the Inquirer's editorial page. During her career, she was one of a small handful of American female cartoonists, receiving a Visionary Woman Award from Moore College of Art & Design in 2011. Other accolades include four Overseas Press Club Awards, two Robert F. Kennedy Journalism Awards for Cartooning, and being named "The Pennsylvania Vegetable Substitute" by the PA House of Representatives.
"Since 1990, our Founder's Award has honored the significant commitment of individuals reflecting the values of Samuel S. Fleisher," said Monica Zimmerman, Fleisher's executive director. "When Fleisher's doors first opened 125 years ago, what was considered art was defined by a few and limited to certain media, objects, and traditions that represented a particularly white, Eurocentric and academically trained experience. In 2023, we know better. Art is food and dance, song and celebration, costumes and language acquisition. Art knows no bounds in its ability to tell stories, make new connections, and celebrate the joys and sorrows of being human, and this year's honorees are a reflection of that awe-inspiring spectrum of possibility. We're thrilled to celebrate the unique ways all three of these Fleisher alumni have brought art to the community."
On Saturday, October 21 from 6–9 pm, Fleisher Art Memorial will host the 2023 Founder's Award Celebration with a program inspired by their iconic Sanctuary space on Catharine Street, featuring an evening of drinks, food, and live performance reaching new heights. The event's cocktail hour, sponsored by Tito's Handmade Vodka with contributions from Bluecoat Gin and Yards Brewing Company, will be held in Fleisher's Dene M. Louchheim Galleries with Dox to Light: The Life and Works of Dox Thrash on view, to be followed by a seated dinner catered by 12th Street and live performance in the Sanctuary. Support of the Founder's Award Celebration helps Fleisher continue its 125-year tradition of making art accessible for people of all ages and abilities. For more information about sponsoring the event, please visit our website or contact Catherine Lee, Director of Development, at clee@fleisher.org. Tickets can be purchased on Ticketleap, also accessible through Fleisher's website at fleisher.org.
 
INFO + TICKETS
 
Dox to Light: The Life and Works of Dox Thrash, on view from October 20 through November 17, 2023, features early sketches, prints, and experimental works from the artist's later years. Part of the collection of Dr. Esther Rollins and David McIntosh—viewable to the public for the first time—these works highlight the evolution of Thrash's style and technique, honed during his years as a student at Fleisher (then known as the Graphic Sketch Club), as well as his vital roles as both mentor and community organizer. Dox to Light is made possible by the generous support of the Edna W. Andrade Fund of the Philadelphia Foundation. The exhibition is organized by the McIntosh Rollins Foundation in collaboration with Fleisher Art Memorial, with contributions from Dolan/Maxwell. Fleisher will host an opening reception for the exhibition on Friday, October 20 from 6–8 pm.
The following weekend, Fleisher and the official Día de los Muertos committee La Calaca Flaca (Skinny Skeleton) will present their annual procession and celebration on Saturday, October 28 (rain date Sunday, October 29). El Día de los Muertos (the Day of the Dead) has been observed across Latin America for centuries as a day to honor and celebrate the lives of loved ones lost. Each year, a central element of Fleisher's celebration is la ofrenda, a community altar of offerings built in the Sanctuary to honor the deceased. This year's celebration will be guided by the collective vision of guest artists Erika Guadalupe Nuñez and Ivonne Pinto García, with a particular focus on the layered elements of la ofrenda. The event, supported by the William Penn Foundation and the Office of Arts, Culture, and the Creative Economy, will run from 2–9 pm, featuring a children's fair, music, dancing, food, and market vendors.
Header image: Ash Limés Castellana, Past, Present, and Future Sanctuary (detail), 2023. Inset (Dox to Light): Dox Thrash, Grinder, c. 1940, carborundum mezzotint, courtesy of the McIntosh Rollins Foundation; (Día de los Muertos): photo credit: Colibrí Workshop.
Header image: Ash Limés Castellana, Past, Present, and Future Sanctuary (detail), 2023. Inset, Dox to Light: Dox Thrash, Grinder, c. 1940, carborundum mezzotint, courtesy of the McIntosh Rollins Foundation; Inset, Día de los Muertos: photo credit: Colibrí Workshop.
 
About Fleisher Art Memorial
Founded by industrialist Samuel S. Fleisher in 1898 as one of the nation's first community-based art centers, Fleisher Art Memorial is renowned for its long-standing mission of making art accessible regardless of economic means, background, or artistic experience. Fleisher provides free and low-cost studio art classes along with opportunities for emerging and seasoned artists to exhibit their work. Extensive arts education and community-based programming also reflects the organization's commitment to strengthening communities by developing, sharing, and promoting creative resources.
Media Contact

Erin Sweeny
Director of Communications
Fleisher Art Memorial
esweeny@fleisher.org
215-922-3456 ext. 350