Greater Philadelphia Cultural Alliance Celebrates Annual Meeting & Arts Party
October 12 @ 6:30 pm

-

8:30 pm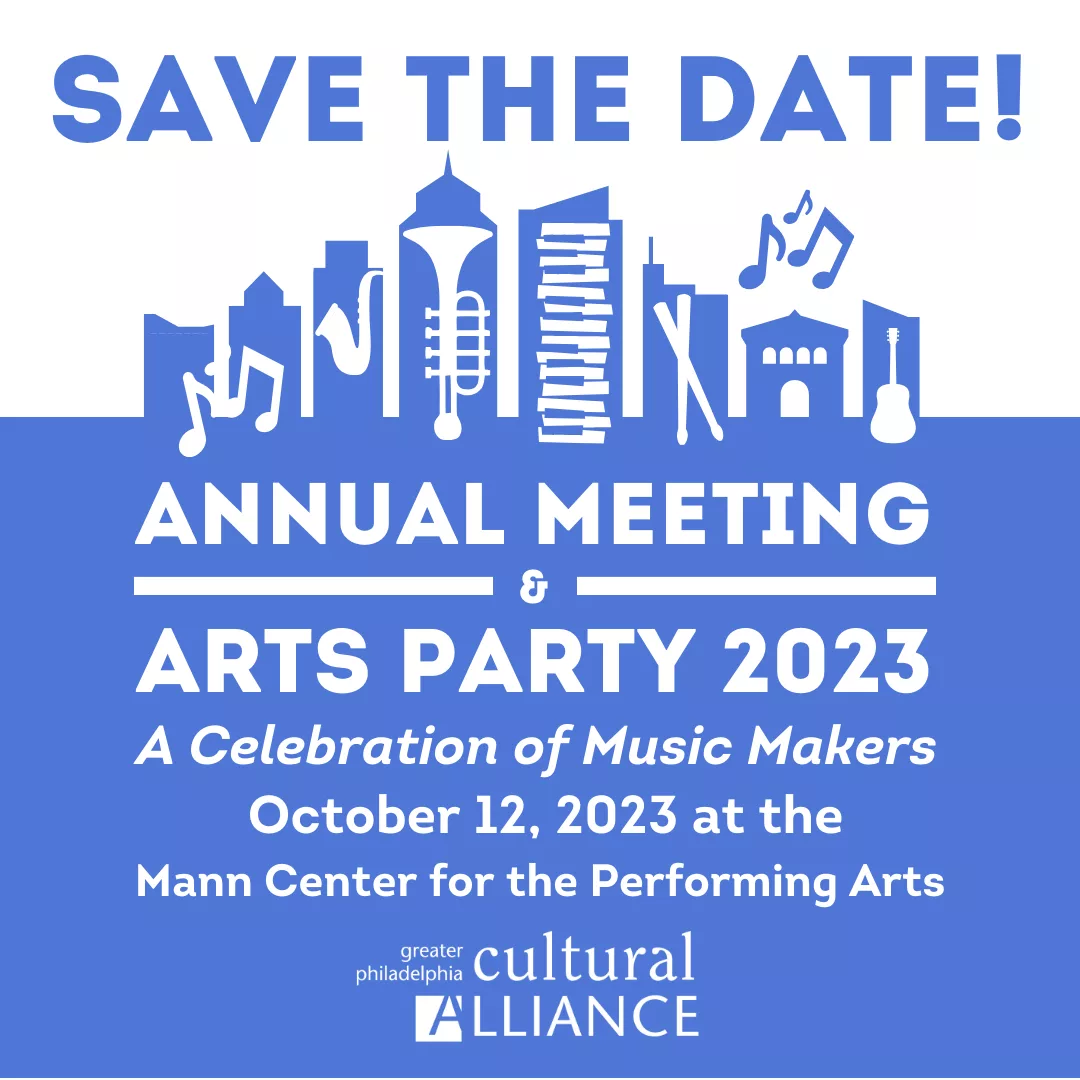 Philadelphia (September 12, 2023) – The Greater Philadelphia Cultural Alliance ("Cultural Alliance") will expand its Annual Meeting format to become an Arts Party celebrating the robust arts and culture community that makes the Philadelphia region shine and thrive. The Annual Meeting & Arts Party 2023 will be held Thursday, October 12, 2023, at The Mann Center for the Performing Arts. In honor of the rich musical traditions and innovations that are the hallmarks of the sounds of Philadelphia, a special 2023 musical theme – A Celebration of Music Makers – will highlight the region's diverse musical community, while the Cultural Alliance debuts three awards to honor outstanding leaders and trailblazing programs from the Philadelphia region's arts communities, including:
"Hal Real of World Cafe Live, Cathy Cahill of the Mann, and Project 440 have enriched our city's musical legacy and are true advocates of the arts," said Patricia Wilson Aden, President & CEO, Greater Philadelphia Cultural Alliance. "We hope our fellow arts and culture advocates will join us in honoring them, while celebrating the immeasurable contribution of the entire arts and culture sector to the region's vitality. This will be a 'meeting' of our expansive arts sector in a lively Arts Party format, bringing together creative workers, advocates and arts enthusiasts."
Live performances throughout the evening will showcase a variety of artists and genres that make up Philadelphia's robust music scene. As a partner of the event, iHeartMedia Philadelphia will invite renowned Philadelphia host Patty Jackson of 105.3 FM WDAS to serve as the event's emcee. Sponsors generously supporting this event include: Payroll Service Solutions, TD Bank, VISIT PHILADELPHIA®, M&T Bank, EQT Exeter, Yards Brewing Co., White Horse Winery, Tito's Handmade Vodka, Evil Genius Beer Co., and Bluecoat Gin.
The Annual Meeting & Arts Party 2023 is open to all members of the region's arts and culture community. Those interested in attending can find more information and register on the Cultural Alliance website at philaculture.org/2023-annual-meeting.
ABOUT THE CULTURAL ALLIANCE AWARDS & HONOREES:
THE CHANGEMAKER AWARD
Creativity and commitment keep our industry moving forward. The Changemaker Award honors an individual who has exhibited visionary leadership and initiative to create lasting change in the arts and culture community in the Philadelphia region and beyond.
Honoring Hal Real
Founder and CEO, World Cafe Live
Hal Real is the founder and CEO of World Cafe Live, a nonprofit independent live music, restaurant, and events venue located in Philadelphia, PA since 2004. In 2008, Hal and colleagues launched LiveConnections, a nonprofit organization dedicated to music education and community engagement that has reached more than 60,000 participants, mostly from Philadelphia schools. In late 2019, the two organizations became one unified nonprofit under the World Cafe Live name.
Hal is a founding board member of NIVA (the National Independent Venue Association) and NIVF (the National Independent Venue Foundation), serving as president of the Foundation board. Formed in April 2020, just three weeks into the pandemic's shutdown, NIVA was the driving force behind lobbying and grassroots efforts to pass the bipartisan Save Our Stages Act. Officially named the Shuttered Venues Operators Grant Program, it was signed into law as part of the second COVID-19 Relief Bill on December 27, 2020. The program allocated $16.5 billion in federal emergency relief via the Small Business Administration, saving the live performing arts industry from mass collapse.
Hal is the immediate past board chair of the Mid Atlantic Arts Foundation, chair of the People's Light Honorary Board (Malvern, PA) and a board member of the Freire (Charter Schools) Foundation. He is a graduate of Kenyon College and Temple University School of Law.
About World Cafe Live
World Cafe Live is a nonprofit independent venue dedicated to live music, education, and community engagement. Since opening in 2004, World Cafe Live has been a vibrant hub for concerts, food & drink, and special events in Philadelphia. The two stages of World Cafe Live have been career launch pads for artists including Adele, Billy Eilish, Brandi Carlile, Kamasi Washington, Lake Street Dive, Trombone Shorty, to name a few.
By supporting emerging and established artists, creating innovative educational programs for youth and people with disabilities, and welcoming audiences of all ages, World Cafe Live has built a continuum of arts access and opportunity. Its music education programs have served more than 60,000 participants through interactive workshops and performances at World Cafe Live, in-depth school residencies with Philadelphia public schools and songwriting partnerships with organizations such as Mighty Writers, HIAS Pennsylvania, Carnegie Hall's
Lullaby Project and more.
World Cafe Live and public radio station WXPN jointly created and share their house of music, from which WXPN produces and broadcasts the 30+ year-old nationally acclaimed public radio show "World Cafe" syndicated to more than 240 stations across the country. More information at worldcafelive.com.
THE COLLABORATOR AWARD
No individual or organization can reach their full potential alone. The Collaborator Award honors an individual who has exemplified this principle through collaboration with organizations in the arts and culture community and across the Philadelphia region.
Honoring Catherine M. Cahill
President and CEO, the Mann Center for the Performing Arts
A catalyst in Philadelphia's arts and culture community, Catherine M. Cahill brought her leadership experience with major arts and culture organizations in markets such as New York, Toronto, and Chicago to the Mann Center for the Performing Arts when she became President & CEO in 2008. Since then, she has transformed the Mann's business model, reinvented the audience experience, integrated new stages and festivals, strengthened the position of the Mann's grand Fairmount Park campus in the cultural marketplace, and exponentially increased the Mann's impact in the community with comprehensive, long-term education and engagement initiatives for the city's young people.
Cahill has overseen three major capital campaigns during her tenure at the Mann; established long-term partnerships with promoters Live Nation Entertainment, and previously AEG/Bowery Presents, to diversify contemporary performances and host major touring artists; blended genres for new, cultural programming that is relevant to diverse audiences; commissioned new world-premiere works; and spearheaded the creation of new programmatic initiatives, Movies @ the Mann and Downstage @ the Mann. She also commissioned the development of a multi-pronged, dynamic education and community engagement strategy to address out-of-school time, workforce development, and creative placemaking to better serve the community of Parkside and the city of Philadelphia.
Prior to her role at the Mann, Cahill served as CEO at the Brooklyn Philharmonic, Executive Director of the Toronto Symphony Orchestra, General Manager of the New York Philharmonic, and Festival & Artistic Director of Chicago's waterfront Grant Park Music Festival. A trained cellist, she earned a Bachelor of Music at Temple University and then a Master of Science in Arts Administration/Arts Management at Drexel University. She began her career as a Management Fellow of the American Symphony Orchestra League (ASOL, 1983-1984), working with a variety of major orchestras across the country.
About the Mann Center for the Performing Arts
As one of the foremost outdoor music centers in the country, the Mann Center for the Performing Arts, a leading non-profit organization, has a historical legacy of artistic excellence as a world-class entertainment destination presenting premier artists, now in association with Live Nation Entertainment. Each summer season, renowned symphony orchestras, iconic rock stars, and the latest touring artists in indie rock, hip hop, R&B, and pop take the stage here. The Mann is the summer home of The Philadelphia Orchestra and has presented critically acclaimed performers in every decade since the 1930s. Located in the heart of Philadelphia's Fairmount Park, the Mann hosts more than 300,000 visitors annually. Signature concert experiences are surrounded by Philadelphia's stunning skyline and include seats beneath the Mann's acoustically acclaimed TD Pavilion; picnics, blankets, and music under the stars on its Great Lawn or at the top of the hill at the Skyline Stage; and dining in Crescendo, the venue's spectacular tented restaurant. In addition, the Mann's Education & Community Engagement Program reaches tens of thousands of young people annually through free programming and educational initiatives as well as its virtual Mann Music Room. The Mann's unique setting also provides an unparalleled opportunity to activate the campus's unique six event spaces available to host concert presentations, intimate gatherings, corporate events, and private functions. For more information, visit www.manncenter.org.
THE NEXT AWARD
Forward thinking initiatives ensure that our creative community continues to grow and thrive. The Next Award recognizes programs that bring renewed relevance to the arts community by introducing creative tactics to engage new generations.
Honoring Project 440
The mission of Project 440 is to teach young people to use their interest in music to forge new pathways for themselves and ignite change in their communities. Project 440 is a youth-driven, student-first music education organization that educates the whole person. The organization welcomes all Philadelphia high school students, regardless of skill level or prior musical experience, to participate in its free afterschool programs: Doing Good, Instruments for Success, and the Youth Advocacy Council. Programs expand beyond the development of technique, using music as the spark to help young people grow as individuals and members of their community. Programs emphasize entrepreneurship, leadership, service, college readiness, and career pathways and teach a toolkit of durable 21st-century life skills that serve students throughout their lives, whatever path they choose.
Since 2017, Project 440 has presented its annual College Fair for Musicians at the Kimmel Center for the Performing Arts, connecting hundreds of students throughout the Delaware Valley and beyond with representatives from universities, colleges, and conservatories nationwide. Project 440 annually partners with the Mann Center for the Performing Arts, The Philadelphia Orchestra, and the School District of Philadelphia to facilitate the All City Orchestra Summer Academy (ACOSA), a summer orchestra training camp for Philadelphia students in 6th grade to 12th grade provided at zero cost to participants. Project 440 is one of eight music education organizations in the city-wide Philadelphia Music Alliance for Youth (PMAY) Artists' Initiative. The PMAY collaborative provides musicians in 5th through 12th grades with equitable access to the extensive resources that are required to be prepared to study music at the college and conservatory level.
In 2021, Project 440 received a BBT Communities grant from the London-based Borletti-Buitoni Trust to support the expansion of its Doing Good program. Also, that year, the Manhattan School of Music established a four-year full-tuition scholarship awarded annually to one Project 440 student. For more information, please visit project440.org.
Joseph Conyers
Founder & Vision Advisor, Project 440
Citizen musician, entrepreneur, and youth advocate, Joseph H. Conyers, principal bass of The Philadelphia Orchestra, has spent the whole of his career as a multi-faceted 21st-century artist whose innovative work in music education and access has been recognized internationally. Awards for his many celebrated initiatives include the Sphinx Organization's Medal of Excellence (2019), the organization's most prestigious recognition; the Theodore L. Kesselman Award from the New York Youth Symphony (2019); the C. Hartman Kuhn Award (2018), The Philadelphia Orchestra's highest honor bestowed upon a musician of the ensemble; and Musical America's 30 Top Professionals—Innovators, Independent Thinkers, and Entrepreneurs (2018). In 2015 he was the inaugural recipient of the 2015 Young Alumni Award from his alma mater, the Curtis Institute of Music, where he studied with Harold Robinson, former principal bass of The Philadelphia Orchestra, and Edgar Meyer. In 2021 Mr. Conyers's broad- ranging career was featured on an episode of Jim Cotter's Articulate on PBS, which featured his work as founder and vision advisor of Project 440, an organization that helps young people use their interest in music to forge new pathways for themselves and ignite change in their communities.
A 2004 Sphinx Laureate, Mr. Conyers has been a bass soloist with numerous orchestras and has for several years been an artist of the Chamber Music Society of Lincoln Center. He's music director of Philadelphia's historic All-City Orchestra, which for over 70 years has showcased the top high school musicians in the School District of Philadelphia. Additionally, he was named director of artistic development for the prestigious Boston University Tanglewood Institute in 2020. One of his newest initiatives is as artistic director and founder of the newly formed Dubhe, a collective of some of the most influential chamber and orchestral musicians in the world with the goal of creating performances centered on authentic community connection, inclusivity, and lasting impact. A frequent guest clinician and public speaker presenting from coast to coast, he is also a sought-after pedagogue with former students in orchestras in North America and Europe. He currently serves on the double bass faculty of the Juilliard School.
Mr. Conyers joined The Philadelphia Orchestra in 2010 as assistant principal bass. He served in the role of acting associate principal bass from 2017 to 2023, and he won the principal position in May 2023. He performs on the "Zimmerman/Gladstone" 1802 Vincenzo Panormo bass, which he has affectionately named "Norma." Find him on social media @weatherclef.
Rebecca Bolden
Executive Director, Project 440
Rebecca Bolden joined Project 440 as its Executive Director in January 2022. Rebecca has held many leadership positions in Philadelphia's nonprofit cultural sector. Most recently, she served as the Senior Director of Development at the National Constitution Center where she helped to elevate the Center's mission of constitutional education and significantly increased support for the expansion of its nationally recognized youth education programs. She also secured support for the creation of its exhibit commemorating the centennial anniversary of voting rights for women. Rebecca was also the Director of Development at Fleisher Art Memorial, the nation's oldest community art school and the Executive Director of The Philadelphia Singers, a professional chorus that also served as the Resident Chorus of The Philadelphia Orchestra from 2001 through 2011.
Rebecca has a lifelong love of music and received her B.A. in Music from Clark University.
###
About Greater Philadelphia Cultural Alliance:
Established in 1972, the Greater Philadelphia Cultural Alliance is the region's leading arts and cultural advocacy, research, and marketing organization. Our mission is to "lead, strengthen and amplify the voices of a cultural community that ignites creativity, inspires people and is essential for a healthy region." Our membership includes more than 450 organizations ranging from museums and dance companies to community art centers, historic sites, music ensembles and zoos. For more information on the Cultural Alliance, please visit philaculture.org.
Media Contacts:
Kaitlyn Haney, Signature 57
(215) 514-6495
Elissa Hill, Signature 57
(814) 952-1170