Much Depends on Where You Stand
September 12 @ 10:00 am

-

October 28 @ 5:00 pm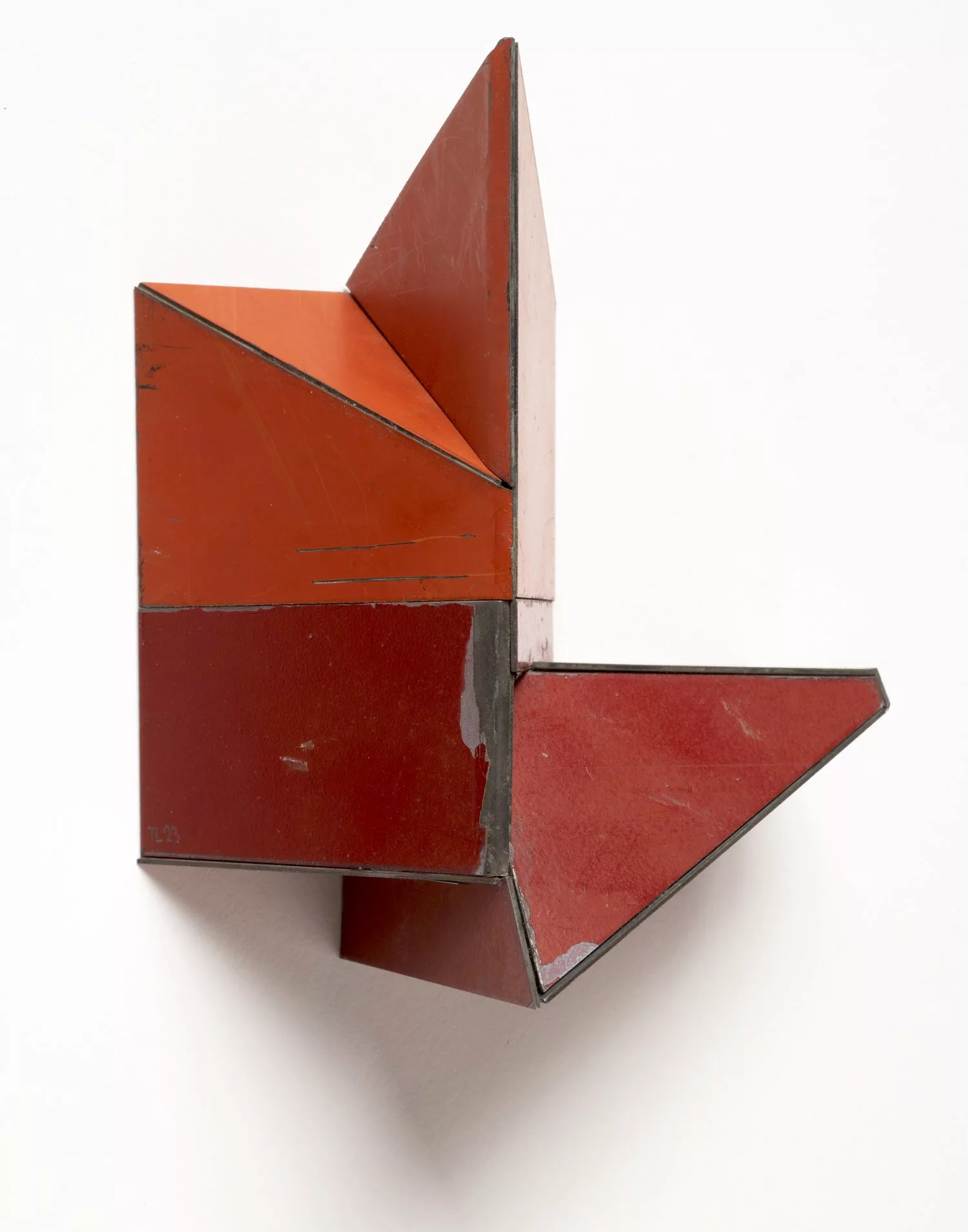 SEPTEMBER 12 – OCTOBER 28, 2023
Much Depends on Where You Stand
TED LARSEN
MEET THE ARTIST, RECEPTION & BOOK SIGNING: Thursday, September 14, 6 – 8 PM | Talk at 7 PM
The new fall art season will officially begin with Much Depends on Where You Stand, a solo show by Ted Larsen.
The new series of work in Much Depends on Where You Stand sits in the position of contemporary art by embracing materiality and found material while challenging our notions of painting and sculpture. This exhibition opens with a book signing of Radius Books' newly published book, Ted Larsen: Works 2007-2023, on Thursday, September 14th at 7 pm.
Larsen's work draws you in with warm to neutral tone colors and leaves you appreciating the untarnished and weathered surface of his findings. Preserving the salvaged steel, the artist brings the essence and history of the material into his pieces.
While not working with traditional canvas and paint, Larsen's approach to composition, shape, and color is in conversation with current painting discourse. He breaks his work down into geometric units that he then rearranges and builds onto each other to create a myriad of different landscapes. He uses the vantage point of the viewer to create a relationship with where they stand. We look at his work through a metaphor of someone walking through nature. Depending on where you are when looking at the work, peaks, and hills appear, but look around the corner, and you will be treated to pops of color and canyons of texture.
Ted Larsen received his BA from Northern Arizona University. His works are included in the permanent collections: The New Mexico Museum of Art, The Palm Springs Art Museum, The New Mexico Department of Cultural Affairs, The Edward F. Albee Foundation, Proctor & Gamble, The Bolivian Consulate, Reader's Digest, PepsiCo, The University of Miami, The University of Texas, Krasel Art Center, Dreyfus Funds, JP Morgan Chase, Forbes and Pioneer Hi-Bred, Inc. He has exhibited in museums: the New Mexico Museum of Art in Santa Fe, The Albuquerque Museum, The Amarillo Museum of Art, The Spiva Center for the Arts in Joplin, Missouri, the Philadelphia Museum of Art, and Esbjerg Kunstmuseum, Denmark. Grants include Surdna Foundation and the Pollock Krasner Foundation, as well as residencies with the Edward F. Albee Foundation and Asilah Arts Festival in Morocco. He has guest lectured at the University of Art and Design, Santa Fe, New Mexico; The Palm Springs Art Museum, Palm Springs, CA; The New Mexico Museum of Art, Santa Fe, NM; Site Santa Fe, Santa Fe, NM; Texas Society of Architects, Dallas, TX. His work was featured in Art in America, ArtNews, SouthWest Art, Mountain Living, Architectural Digest, Sculpture Magazine, Art Gallery International magazines, The New York Times, The Philadelphia Inquirer, The Denver Post, The Dallas Morning News, and in the books Art of The Edge, Biennial Southwest, The Curtain of Trees, New American Paintings, and Millennium Collection.
For all inquiries, please contact Pentimenti Gallery at mail@pentimenti.com or +1 215.625.9990.