SELLING KABUL
October 27 @ 7:00 pm

-

November 19 @ 9:00 pm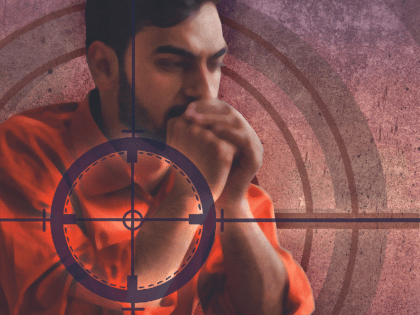 This fall, InterAct Theatre Company brings the regional premiere of SELLING KABUL to Center City, written by Sylvia Khoury and directed by Jude Sandy. The play follows Taroon, a former interpreter for the U.S. military, who is hiding from the Taliban in his sister's apartment while he awaits the arrival of a promised American visa. But on the eve of his son's birth, he is determined to visit his wife and newborn child, putting his entire family in grave and immediate danger.
Performances run October 27th – November 19th at The Proscenium Theatre at The Drake. Preview nights even feature free ice cream from Scoop DeVille (October 27 – Nov. 1). For tickets and showtimes, visit www.interacttheatre.org/selling-kabul
As a company dedicated to civic discourse, InterAct hosts discussions for audience members after every Wednesday and Thursday non-preview performance, facilitated by Artistic Director Seth Rozin. Following the Sunday non-preview matinees, Literary Manager Charlotte Martin hosts a moderated conversation with expert speakers digging into the themes of SELLING KABUL. Guests include Ahmad Q. Munhazim, Assistant Professor of Global Studies at Thomas Jefferson University and Wazhmah Osman, a filmmaker and assistant professor in the Klein College of Media and Communication at Temple University.
The talented production team includes: Hunter Smith (Stage Manager), Humaira Ghilzai (Dramaturg), Dirk Durossette (Scenic Designer), LeVonne Lindsay (Costume Designer), Lindsay Stevens (Lighting Designer), Ryk Lewis (Sound Designer), Props Manager Cole Zwilling (Props Manager), and Valden Kamph (Production Manager).
ABOUT THE ARTISTS
Raz Ayer (TAROON) is an actor who was born in Ankara, Turkey. He moved to Italy at an early age and spent his formative years in Milan where he met his first acting teacher Michael Rodgers who encouraged him to continue acting full time. In 2017, Raz moved to New York City to study at the Stella Adler Studio of Acting, completing a three-year conservatory program. Throughout his studies, he tackled challenging roles such as Macbeth in "Macbeth," Babbybobby in "The Cripple of Inishmaan," Sebastian in "Twelfth Night," and Ross in "The Goat or Who is Sylvia" Having recently graduated from acting school, Raz now resides in New York City, where he continues to pursue his acting career. He is thankful for his family's continuous, unconditional love and their trust in him in his journey. More about Raz: @razayernyc www.razayernyc.com
Ahsan Ali (JAWID) is a writer, actor, and filmmaker who grew up in Pakistan, and then immigrated to NYC where he currently resides. Theater Credits include, Amir in Disgraced By Ayad Akhtar, Ali in Friends with Amenities by Ahsan Ali and Lisa Jill Anderson, Natarajan in Mushroom by Eisa Davis, George in Who's Afraid of Virginia Woolf by Edward Albee, John Hale in The Crucible by Aurthor Miller, The Hilton Worldwide Award for best Actor in a Supporting Role in BENGAL TIGER AT THE BAGHDAD ZOO (2014). TV and Film credits include: THE BLACKLIST (NBC) and NORA FROM QUEENS (Comedy Central). FAHIM (2020) (Best Actor GFF);  COFFEE (2021) (Best Actor for Astoria FF), SASHA (2021), THIS IS AWKWARD (2022) BFA, CUNY Brooklyn College
Awesta Zarif (AFIYA) is a performing artist, educator, public speaking coach, political campaigner and activist residing in NYC. She was born in Kabul but unfortunately she and her family were forced to flee Afghanistan less than two years after she was born. They spent some years in Germany and eventually settled in San Diego, CA near other family members. Awesta grew up there and attended the San Diego School of Creative and Performing Arts where she first cultivated her love of acting and singing. She later went on to attend Boston University, College of Fine Arts. She received a B.F.A. degree in Theatre Arts with a minor in Cultural Anthropology. Disillusioned with the lack of diversity and representation in American theatre and media, Awesta decided to move abroad for a while. She relocated to Shanghai, China and began teaching drama and music. While there, she discovered a flourishing performing arts scene and continued her work as a performer, starring in over 20 plays and several film and TV projects, as well as voicing countless video games, commercials and education apps. While in Shanghai, she also discovered a passion for teaching public speaking and coaching people who were looking to find their professional and personal voice. Continuing her international journey, Awesta is the recipient of two separate theatre fellowships, one with Accademia dell'Arte in Italy and one with UNESCO's International Theatre Institute, which took place in Croatia. Awesta moved to NYC in 2019 where she continues her work as an actor and educator. Since moving back to the states she has started teaching STEM subjects in schools to promote the presence of BIPOC women in the field. In 2021 Awesta worked as communications and social media manager for a progressive, grassroots city council campaign in Queens. Since the fall of Kabul she has been involved with Afghan led organizations as a volunteer, helping to organize protests and rallies in NYC.
Lo (Lois) Abdelmalek (LEYLA) has her MFA in Performance and African American Theatre Certificate from The University of Louisville and has studied at HB Studio in NYC. Selected credits: Thaisa in Pericles, Prince of Tyre at Notre Dame Shakespeare, Nan in How Water Behaves at Theatre [502], Sameh in Dov and Ali at Theatre Ariel, and the US premiere of The Syrian Monologues. Lois is a director, singer, and an award-winning photographer and has documented the lives of street children in Rwanda, Myanmar, El Salvador, and the Dominican Republic.