WITHin the Anthropocene
November 2 @ 5:00 pm

-

December 5 @ 7:00 pm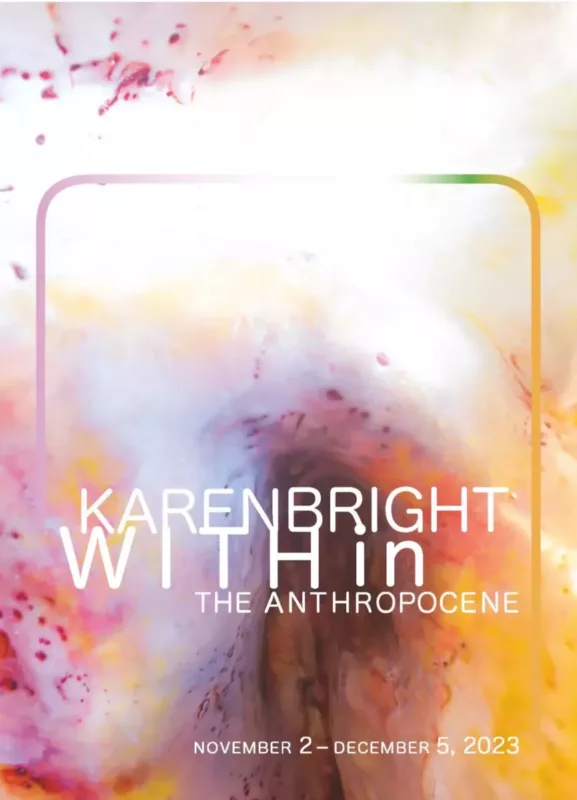 WITHin the Anthropocene: A Thought-Provoking Exhibition by Karen Bright
Comes to CVA Gallery at Brookdale Community College
Lincroft, NJ – The Center for the Visual Arts (CVA Gallery) at Brookdale Community College is thrilled to announce the upcoming exhibition, "WITHin the Anthropocene," featuring the works of acclaimed artist Karen Bright. The exhibition will open with a reception on November 2, 2023, from 5:00 p.m. to 7:00 p.m. and will remain open to the public through December 6.
"WITHin the Anthropocene" showcases diverse artistic mediums, including encaustic, fresco, sculpture, and graphic design, all created by the talented Karen Bright, professor emerita at Monmouth University.
The exhibition opens with a powerful series of post-Sandy infographic prints derived from data sourced from organizations such as the National Oceanic and Atmospheric Administration (NOAA), NASA, and the United States Naval Observatory. These prints serve as a stark representation of climate change, its regional legacy, and its impact on our planet.
Two of Karen Bright's paintings included in the exhibition, "After the Elephants" and "Monarch," delve into issues related to mass extinctions driven by human activities, addressing the urgent need to protect biodiversity. Additionally, her sculptural series – "Still Water," created specifically for this exhibition – explores the multifaceted nature of water, both as essential giver of life and as primary player during extreme weather events.
The exhibition aims to provide visitors with a space for reflection and contemplation about the challenges our world faces in the 21st century, including climate change, biodiversity loss, and the Anthropocene epoch. It encourages viewers to expand their imagination and consider new, sustainable interrelationships between humans, nature, and our planet.
In conjunction with the exhibition, the CVA Gallery will host a series of events and programming, including an encaustic workshop for Brookdale students, followed by a public encaustic demonstration by Karen Bright, and a closing event featuring a "Living Room Conversation on the Anthropocene."
The artist, Karen Bright, shared her inspiration for the exhibition: "My work is enlivened by my deep connection to nature and informed by my personal experiences with our shared climate crisis. The living environment – with particular focus on ocean ecosystems – has offered a consistent well of inspiration for my work over many decades. My work draws energy from the use of color and texture to create added depth and meaning. 'WITHin the Anthropocene' is an opportunity to expand our imagination and provoke thoughtful dialogue about how we can spur innovative, sustainable, and equitable solutions to safeguard the health and prosperity of our communities—and to protect our planet."
The community is invited to this thought-provoking exhibition and its associated events to collectively explore the critical issues of our time through the lens of art.
Exhibition Details:
Title: Within the Anthropocene
Opening Reception: November 2, 2023, 5:00 p.m. – 7:00 p.m.
Exhibition Dates: November 2 – December 5, 2023
Location: CVA Gallery, Brookdale Community College, 765 Newman Springs Road, Lincroft, NJ, Parking lot #2
Admission: Free and open to the public
For more information about the exhibition, the associated events, and gallery times, please visit the CVA Gallery website.
For more photos please contact
Laura Oncea//loncea@brookdalecc.edu//732-224-2967